Prayerful Encounters, Specialized Sessions, and Speaker Information
Wednesday, May 30, 2018
Moment of Encounter
Through multiple options of on and off-site experiences, attendees will have the opportunity to be immersed in the peripheries of the Archdiocese of Chicago, encountering Christ in meaningful ways to transform their posture throughout the remaining professional development experiences.
---
Rev. Dr. Michael Louis Pfleger
KEYNOTE
Moment of Encounter
The Rev. Dr. Michael Louis Pfleger, Senior Pastor, The Faith Community of Saint Sabina. In the course of his extensive and active ministry, Father Pfleger has been recognized for his commitment to equality and passionate stance against injustice. Father Pfleger is the founder of the Employment Resource Center, the Ark Youth Center, Saint Sabina Social Service Center, Thea Bowman Spiritual Advance Center, Samaritan House for the homeless, Saint Sabina 80-unit Elders Village and the Beloved Community, Inc.
As a minister, Father Pfleger has sought to break down the walls of racism and denominationalism by building unity among all people founded on truth and based on Jesus' command to love one another. This holy calling has led him to be parent, a preacher, a teacher, a lecturer and an activist. However, he believes his most important role is an errand boy for Jesus!
Moment of Encounter
Sean Callahan is president and CEO of Catholic Relief Services, the official international humanitarian agency of the Catholic community in the United States. A 28-year veteran of CRS, Sean, had held a wide variety of leadership roles overseas and at agency headquarters in Baltimore, Maryland. As executive vice president for Overseas Operations from June 2004 to September 2012. Sean provided oversight for a program and management portfolio that grew to more than $700 million, serving people in more than 100 countries and engaging a team of more than 5,000 staff.
Father Alejandro López-Cardinale
CAPSTONE – ESPAÑOL
El Momento del Encuentro
Father Alejandro López-Cardinale was ordained a priest for the Archdiocese of Caracas, Venezuela and currently serves the parish of St. Mary's in Waltham, MA. He also works in the Archdiocese of Boston's Hispanic Ministry Office. Fr. Alejandro is the President of La RED (National Catholic Network de Pastoral Juvenil Hispana). Fr. Alejandro holds an MA in Catechesis from Catholic University, Paris. He is also a consultant for Familia, Vida y Juventud Department at the Latin American Bishops Council, CELAM.
Jesús catequista sale a nuestro encuentro / Jesus Catechist Comes Out To Meet Us En el marco del V Encuentro y del primer movimiento del proceso de preparación, el taller ayudará a experimentar cómo Jesús catequista sale a nuestro encuentro de múltiples maneras y cómo nos reta como catequistas para encontrarlo en esta época de cambio.
---
YOUTH SEEKING A SAFE HAVEN FROM DRUGS AND GANGS
ENCOUNTER EXPERIENCE Sponsored by Catholic Charities at Peace Corner Youth Center
This encounter will take place at the Peace Corner Youth Center. Volunteers will spend the day with youth, tutoring, playing games and mentoring.
The Peace Corner Youth Center provides a safe haven from gang violence and drug activity, an after school program for children, job training and placement for young adults, and GED classes. We are dedicated to empowering people to take care of themselves and to contribute to the neighborhood.
---
jóvenes Católicos dedicados a la evangelización y formación
ENCOUNTER EXPERIENCE Sponsored by Iskali Ministry Onsite
Vicente Del Real, Fundador y Director de ISKALI, junto con varios jóvenes discípulos misioneros, presentarán el Ministerio de Iskali y todos los frutos que ha brindado tras los años en la ciudad de Chicago.
Vicente Del Real, Founder and Director of Iskali, along with various Hispanic young leaders, will present what ISKALI Ministry does and how it's fruits have formed hundreds of young Hispanic missionary disciples in the city of Chicago. (Presentation entirely in Spanish.)
Iskali es una comunidad de jóvenes Católicos dedicados a la evangelización y formación que tiene como raíz la espiritualidad del Concilio Vaticano II. La misión de Iskali es crear la próxima generación de líderes de la iglesia mediante el establecimiento de comunidades de discipulado para adolescentes y jóvenes adultos en las cuales puedan profundizar en su fe y su vocación – desde, para y con los jóvenes. Iskali busca promover el liderazgo Latino/a en la iglesia, particularmente en la Arquidiócesis de Chicago, formándolos para que cumplan con su llamado bautismal y su misión en la iglesia y lleguen a el florecimiento humano de sus vidas.
---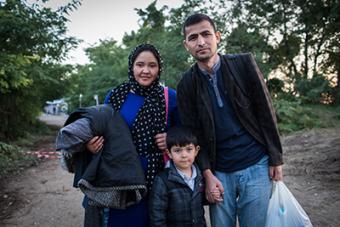 THE REFUGEE
ENCOUNTER EXPERIENCE Sponsored by Catholic Relief Services Onsite
CRS will provide an onsite experience that will offer participants a chance to meet with refugee families and hear their journey stories. There will also be an interactive portion of this event, as well as a prayer service.
Catholic Relief Services carries out the commitment of the Bishops of the United States to assist the poor and vulnerable overseas. We are motivated by the Gospel of Jesus Christ to cherish, preserve and uphold the sacredness and dignity of all human life, foster charity and justice, and embody Catholic social and moral teaching as we act to: Promote human devolpment by responding to major emergencies, fighting disease and poverty, and nurturing peaceful and just societies; and, serve Catholics in the United States as they live their faith in solidarity with their brothers and sisters around the world. As part of the universal mission of the Catholic Church, we work with local, national and international Catholic institutions and structures, as well as other organizations, to assist people on the basis of need, not creed, race or nationality.
---
INQUIRERS OF THE GOSPEL
ENCOUNTER EXPERIENCE Sponsored by Saint Paul Street Evangelization in the Streets of Chicago
Join the national leadership and team members of SPSE for street ministry and discover how a 2 minute conversation with someone on the street can change their life (and your life) forever. We will provide the tools you need to encounter people on the street, invite them to Jesus, offer prayer, and help them connect with the local Church. You will also learn how you can bring this ministry and other proven tools and methods back to your own parish.
St. Paul Street Evangelization is a grassroots Catholic evangelization organization, dedicated to responding to the mandate of Jesus to preach the Gospel to all nations by taking our Catholic Faith to the streets. We do this in a non-confrontational way, allowing the Holy Spirit to move in the hearts of those who witness our public Catholic presence. With over 300 teams throughout the United States and abroad, St. Paul Street Evangelization provides an avenue for you to share the Person of Jesus Christ and the truth and beauty of the Catholic Faith with a hungry culture.
---
THE HUNGRY
ENCOUNTER EXPERIENCE Sponsored by Catholic Charities at the woman, infant, and children center.
This encounter will allow participants to pack food for commodity programs serving thousands of seniors and mothers with children. Participants will pack food to be delivered.
Catholic Charities fulfills the Church's role in the mission of charity to anyone in need by providing compassionate, competent and professional services that strengthen and support individuals, families and communities based on the value and dignity of human life. In order to remain faithful to our mission, Catholic Charities is guided by these core values: Respect, Compassion, Competence and Stewardship.
---
VICTIMS OF GANG VIOLENCE
ENCOUNTER EXPERIENCE Sponsored by Brothers and Sisters of Love at a Local Parish
Participants will meet with former gang members and other residents (perhaps including current gang members) who have lived in gang controlled neighborhoods.
The Mission of Brothers and Sisters of Love is to be a visible sign of Jesus' Love, Peace, and Presence to the poor in Gang Infested Neighborhoods in Chicago and to be a bridge between gangs & the poor with the Church. BS/L has a spirituality of Loving, Trusting in God, Forgiving Everyone & Everything, and Not Being Afraid. When we get into dangerous or fearful
situations, we go back to Loving and Trusting in God. Love casts out fear.
---
THE VETERAN
ENCOUNTER EXPERIENCE Sponsored by Catholic Charities at Bishop Goedert Residence
This encounter will allow participants to serve a meal and spend time with our veterans.
Bishop Goedert Residence is a senior citizen housing-only residence located in Hines, Illinois. Bishop Goedert Residence is sponsored by Catholic Charities of the Archdiocese of Chicago and is financed under the Section 202 Supportive Housing for the Elderly Program of the U.S. Department of Housing and Urban Development. Catholic Charities fulfills the Church's role in the mission of charity to anyone in need by providing compassionate, competent and professional services that strengthen and support individuals, families and communities based on the value and dignity of human life. In order to remain faithful to our mission, Catholic Charities is guided by these core values: Respect, Compassion, Competence and Stewardship.
---
Those Suffering with Mental Illness
ENCOUNTER EXPERIENCE Sponsored by Faith and Fellowship within a small group faith-sharing session.
Faith and Fellowship
Jesus said, "Where two or more are gathered in my name, there I am in their midst." Come and spend an afternoon encountering this presence with a community of faith that welcomes and embraces adults with severe and persistent mental illness. We use a well-developed catechetical model that helps us celebrate God's presence in the ups and downs of our lives. Please accept our invitation to learn how our Church can be a place of acceptance and inclusion for adults whose illness, and the stigma associated with it, all too often keeps them misunderstood, ignored, or hidden. In an atmosphere of mutuality and warm hospitality, you will have time to pray with and share enjoyment within Faith and Fellowship's small group faith-sharing.
Faith and Fellowship is called to follow the example of Jesus by bringing an awareness of God's presence and care to people who experience mental illness, and to provide for them a welcoming sense of belonging through the formation of communities of faith.
---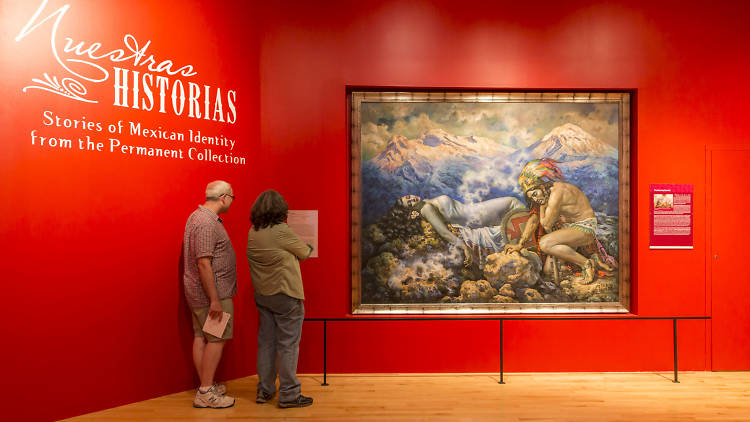 The Undertold Stories of Diversity In Community
The Undertold Stories of Diversity In Community
Pilsen Area Encounter
Participants will spend time at a local parish discovering its ministry in the neighborhood as well as visiting a few shops in Pilsen, including a panaderia (bakery) for a treat and El Milagro Tortilla Factory for a sample. Participants will discover ways to use the city as a classroom and consider ways to raise global awareness by using readily available resources. Participants will also have an opportunity to explore the excitement of Chicago's cultural diversity with a visit to the National Museum of Mexican Art and the Pilsen neighborhood that surrounds it. The museum holds the largest collection of Latino art in the country with a permanent collection, changing exhibits, and outstanding gift shop. This encounter will include handouts and a copy of a Vacation Bible School curriculum, Festival of Faith: Celebrating the Church Year around the World.
---
THE Weary IN West Humboldt Park
ENCOUNTER EXPERIENCE Sponsored by Mission of Our Lady of the Angels at their Food Pantry
This encounter will take place at the headquarters of the organization. Participants will assist in gardening and weeding, packing food for the mobile food pantry, sorting goods for distribution, cleaning, picking up trash and other back-end support to this organization.
The Mission of Our Lady of the Angels establishes a Catholic presence in the West Humboldt Park area on Chicago's west side. This area is presently one of the poorest neighborhoods in the City of Chicago. The purpose of the Mission is twofold: to assist the materially poor and to share the treasure of our Catholic Faith.
Thursday, May 31, 2018
Walk of Accompaniment
Participants develop and learn new models for reaching the "peripheries"- those on the geographical, social , political, and economic margins.  As church leaders, we seek to learn about models of accompaniment, including apprenticeships, companionship, and mentoring.
Walk of Accompaniment
In Evangelii Gaudium, Pope Francis teaches about the "art of accompaniment." What does that mean for us today in a world where people feel alone and are searching for meaning and how do we see each other as children of God and "remove our sandals before the sacred ground of the other (cf. Ex 3:5. (Evangelii Gaudium, 169).
Dr. Ansel Augustine is originally from the Archdiocese of New Orleans and served as the Director of the Office of Black Catholic Ministries and as the Associate Director/Coordinator of Black Youth & Young Adult Ministry for the Archdiocese after rebuilding his home parish, St. Peter Claver, following Hurricane Katrina. He is also on the Faculty of the Institute for Black Catholic Studies at Xavier University of Louisiana. Ansel has served on the national boards of NCYAMA and NFCYM, and has spoken around the country and written various pieces related to ministry. He presently serves as the Resident Campus Minister for Student Leadership and Faith Formation at St. John's University in Queens, NY.
Walk of Accompaniment
"Ain't never been loved before": A story of Accompaning transformation. Walking with and loving the prostitutes, the homeless, the winos, and the forgotten.
Born in Lancaster, England, Edwina Gateley's educational experiences have awarded her a Teacher's Degree from her home country, a Masters in Theology from Catholic Theological Union, Chicago and certificati on as an HIV Counselor in the State of Illinois. From 1981 to1982 Edwina lived for nine months in prayer and solitude in a hermitage in Illinois.In 1983 she spent over a year on the streets of Chicago walking with the homeless and women involved in prostitution. In 1983 Edwina founded Genesis House - a house of hospitality and nurturing for women involved in prostitution. Numerous groups and individuals, including the Mayor of Chicago, the late Joseph Bernardin and Bill Clinton former President of the United States, have publicly commended Edwina's work and ministry. Edwina has also been featured on CBS's "60 Minutes" and "48 Hours." She also continues to work with women in recovery through her small Foundation, Sophia's Circle. Edwina founded the Volunteer Missionary Movement (VMM) in Eng land to recruit, prepare and send lay missionaries to work in the developing world.
Sr. Donna L.Ciangio
Small Christian Communities: Gather, Accompany, and Send
Small Christian Communities (SCCs) are not just for Advent or Lent. They are a great way to accompany parishioners in deepening faith and participating in parish ministry. SCCs have a great appeal for parents, catechists, and young adults and provide a way to gather and walk with them. This workshop will offer insights into the "why" of SCCs, the benefits of small communities for adult formation as well as some tips on how to get started. Participants will be encouraged to share their experience.
Sr. Donna is a Dominican Sister of Caldwell, New Jersey and holds a doctorate from Drew University. She is the director of Church Leadership Consultation and works internationally and nationally in promoting parish vitality and pastoral direction, congregational and leadership development, faith formation, Small Christian Communities, consulting with parishes and dioceses, and in many other areas. She served as the International coordinator for Renew and the Director of Pastoral Services of the National Pastoral Life Center and as parish consultant for the Jesuit Conference USA. Sister Donna serves as the Director of Adult Faith Formation at St. Rose of Lima Church in Short Hills, New Jersey, is an adjunct professor in Drew University's Doctor of Ministry program, and a consultant for RCL Benziger Publishing Company. Her articles have appeared in Today's Parish, Ligourian, CHURCH Magazine, and in publications from Crossroads, Paulist Press, and St. Anthony Messenger Press. Her current book is "Open Our Hearts: A Small Group Guide for an Active Lent" a faith sharing book (with Rev. Thomas Iwanowski) from Ave Maria Press and the most recent article, The Parish as a School of Discipleship, in Catechetical Leader, May 2014. Her most recent Lent book is entitled Conversations that Matter, Lent and Advent small group participants' booklets. Sr. Donna also serves on the Board of Trustees of Caldwell University and the Center for Ministry Development and is chairperson of the North American Forum for Small Christian Communities (NAFSCC.)
Dr. Shawnee Daniels-Sykes
Walking in the Light of God to Stop the Cycle of Prejudice and Oppression
Accompaniment: Walking in the Light of God to Stop the Cycle of Prejudice and Oppression
Although Dr. Daniels-Sykes' research and writings promote the idea of accompaniment in respect to a Lay Ministry Ally in the health care setting, her workshop seeks to expand this idea to other social institutions and structures where, she argues, accompaniment is needed. Drawing on principles of social justice via the context of Catholic Social Teaching, the speaker proposes that a Lay Ministry Ally, when engaged mutually with another(s), that the ally can play a significant role while walking with another to address social institutions that are consciously or unconsciously biased and perpetuate the cycle or prejudice and oppression.
A native of Milwaukee, Wisconsin, Dr. Shawnee Marie Daniels-Sykes is currently the only African American/Black Catholic female theological bioethicist in the nation. Having earned her Ph.D. in Religious Studies from Marquette University, Milwaukee, she is in her eleventh year at Mount Mary University where she is an Associate Professor in the Department of Theology. A past chair of the Faculty Assembly there, Dr. Daniels-Sykes teaches courses in Catholic social teaching, Catholic moral theology and in particular bioethics and social ethics, liberation theologies, a Christian faith perspective on human sexuality, among others. She holds a Bachelor of Science Degree in Biology and Biochemistry from Spelman College, Atlanta, Georgia, a Bachelor of Science Degree in Nursing from the University of Wisconsin-Milwaukee, and a Master's Degree in Pastoral Studies/Theology from Saint Francis Seminary in Saint Francis, Wisconsin. Dr. Daniels-Sykes is a Registered Nurse by training having worked in labor and delivery and public health care. An adjunct Associate Professor at the Institute for Black Catholic Studies in the Graduate Division, at Xavier University of Louisiana where she teaches a course entitled Moral Questions in the Black Community, she is also a volunteer faculty member at the Medical College of Wisconsin/Children's Hospital for the Center for the Advancement of Underserved Children. She also teaches in the Institute for Catholic Lay Life at Cardinal Stritch University in Milwaukee. As a community member, she serves on the Quality Assurance Committee for the Board of Directors for the AIDS Resource Center of Wisconsin.  As a Catholic moralist, her current research interests involve the investigation of makeshift death shrines/memorials that are erected after gun violent homicides in the city of Milwaukee and beyond, health care ethics, and current moral issues, such as race, class and gender inequities/disparities in church and society. Dr. Daniels-Sykes has published book chapters, book reviews, and journal articles in peer reviewed journals, and edited books. She has given television and radio interviews on her research on those makeshift death shrines; there are several newspaper articles on her death shrines' research too. Dr. Daniels-Sykes is a national and international keynote speaker and workshop presenter on topics related to theological social bioethics across the human life spectrum: beginning of life, middle of life, and end of life.  She has been an active member for many years with the Catholic Theological Society of America. She is the past chair the Professional Conduct Committee for the Society of Christian Ethics and the past secretary and chair of the membership committee for the Black Catholic Theological Symposium.  Having won numerous awards for service in the Catholic Church and in society, Dr. Daniels-Sykes currently chairs the steering committee for the writing of the Black Catholic Pastoral Plan in conjunction with Archbishop Jerome Listecki of the Archdiocese of Milwaukee.
FR. FRANK DONIO, S.A.C.
The Road to Emmaus and the Art of Accompaniment
The Road to Emmaus and the Art of Accompaniment
On the road to Emmaus, Jesus provides the way to accompany. He meets the disciples where they are. As they walk along, he questions, listens, understands, and teaches. At their invitation for more, he reveals himself and, with hearts burning, the disciples go forth to preach the Good News of the Risen One. All of this took time and patient accompaniment. Accompaniment is an art, not a science. In this session, we will explore the way Jesus accompanied and how we can do the same with others, so that they may go forth as missionary disciples.
Fr. Frank Donio, S.A.C., D.Min. is Director of the Catholic Apostolate Center in Washington, D.C. and Provincial Rector of the Immaculate Conception Province of the Society of the Catholic Apostolate (Pallottine Fathers and Brothers). He is also a Consultant to the Committee on Evangelization and Catechesis of the United States Conference of Catholic Bishops. His academic background, teaching, presenting, pastoral, and administrative work are focused primarily around evangelization, spiritual formation, and pastoral practice that fosters greater co-responsibility and collaboration among all the baptized.
ESTHER GARCIA
Esther, holds a Bachelor's degree in Communications, Certificate of Bible Studies, Pastoral Formation, Master Catechist and Catechetical Leadership training from the Diocese of Dallas. She has over 27 years of experience as a catechist, community and ecclesial volunteer. She worked as Director of Faith Formation at Sacred Heart Parish in the Catholic Diocese of Dallas and teacher at the Autism Treatment Center of Dallas. She is specialized in leading catechetical programs for children, youth, adults, and families. In addition, she leads programs in special education - autism and others disabilities - and early childhood in multicultural communities. Esther is a member of the Council on Intellectual and Developmental Disabilities (CIDD) of the National Catholic Partnership on Disability from 2014, the National Conference for Catechetical Leadership (NCCL), and the Federación para la Catequesis con Hispanos (FCH).
Andrea Kopp & Michael Theisen
Moving Forward in Hope: The Joy of Adolescent Catechesis
Moving Forward in Hope: The Joy of Adolescent Catechesis
An examination of the newly published document by the Partnership for Adolescent Catechesis, "The Joy of Adolescent Catechesis", written to inspire those who are involved in catechetical ministry with adolescents. This interactive session will break open the content of the document as well as facilitate opportunities for participants to share input on the practical applications of the principles presented, and provide suggestions to the PAC organizations (NCEA, NCCL and NFCYM) on tools and resources most needed in supporting leaders and catechists as they move forward in hope to accompany young people and their families through parish and school ministry.
Andrea Kopp serves at the Assistant Director of Professional Development for the National Catholic Educational Association. She has 17 years of teaching and ministry experience and joined the staff of NCEA in 2015. Andrea has held several leadership roles in the schools and parishes where she has served including: Social Studies Department Chair, iPad Coordinator, Google Apps Administrator, Curriculum Team Leader, Director of Youth and Young Adult Ministry and Confirmation Coordinator. In her work at NCEA she produces and hosts their webinar content, serves as the NCEA representative on several national committees and works closely with Catholic partner organizations as well as speaking and presenting at a variety of conferences and events. She lives in Arlington, VA with her husband and 2 boys.
Michael Theisen has been involved in faith formation and ministry to youth and families for 30 years, authoring more than 15 books and numerous articles. His experience as a speaker, trainer and ministry leader reaches from parish to diocesan and national levels and he enjoys creatively engaging learners and colleagues on the topic of passing on the faith to the next generation of disciples. Michael works as the Director of Ministry Formation for the National Federation for Catholic Youth Ministry (NFCYM) in Washington DC and also serves as the National Coordinator for the Strong Catholic Families Initiative. He resides with his family in Rochester, NY.
BRO. MICHAEL MCGRATH
The Church Is a Multi-Colored Garden
The Church Is a Multi-Colored Garden
Using his own artworks and the stories behind them, Bro Mickey will offer a fresh look at the colorful and cultural diversity of the Church. From Black Madonnas to St. Kateri Tekakwitha to holy heroes of our own times we will explore the unique and sacred gifts which all of God's Children bring to the world.
Brother Mickey O'Neill McGrath, Oblate of St. Francis de Sales, is an artist, writer, and speaker who loves to explore the relationship between art and faith. His work and ministry have been featured in St. Anthony Messenger, USA TODAY, and many Catholic newspaper articles around the country. Several of his covers for America Magazine have been given awards by the Catholic Press Association. He creates art for many of today's leading Catholic publishers including the United States Conference of Catholic Bishops, for whom he has designed posters for Catechetical Sunday, Home Missions Appeal, and National Migration Week. 
James Pauley
Apprenticeship: Today's Key Ingredient for Transformative Sacramental Living
Apprenticeship: Today's Key Ingredient for Transformative Sacramental Living
In this era often characterized by a decline in sacramental practice, one frequently discussed way forward is what Pope Francis calls "pastoral accompaniment." If the sacraments are to be experienced as the place of maximum encounter with God, and if such an encounter is to be transformative of persons and communities, the apprenticeship model described at Vatican II contains immense potential. How can we begin to seek out organic opportunities to build up a culture of mentoring our people to active sacramental living? What specific abilities can parents and catechists develop within themselves and within those they form, so that the sacraments can nourish us all over the course of a lifetime? Join us for a lively presentation and discussion on how the faith and conversion most needed for sacramental practice is best learned person-to-person.
Dr. James Pauley is Professor of Theology and Catechetics at Franciscan University. He is author of the book, Liturgical Catechesis in the 21st Century: A School of Discipleship (Liturgy Training Publications, July 2017). In 2014, James was appointed editor of The Catechetical Review, Franciscan University's journal dedicated to the new evangelization. James began working as a parish catechetical leader in 1989 and has served professionally in parish, diocesan and university catechetical formation for more than twenty-five years. Having received his Doctorate in Sacred Theology from the Liturgical Institute at the University of St. Mary of the Lake/Mundelein Seminary in 2014, he is a frequent speaker in dioceses and parishes nationwide. James is married to Katrina and they are blessed with three beautiful daughters.
LAWRENCE SUTTON
Walking Hand in Hand with Catechists of Families who have Children or Teens Diagnosed with Autism
Walking Hand in Hand with Catechists of Families who have Children or Teens Diagnosed with Autism
With the marked increase in the number of children and adolescents with autism in the United States estimated to affect 1 in every 68 American children (CDC) religious communities have felt increased pressure to both recognize the existence of the disabled and have had to begin creating meaningfully methods to educate and include them into services. A program centered on peer-teaching (modeling) of autistic children and teens has successfully helped many of these children and their parents re-enter their community Church. Through an innovative methods, where teen faith mentors have both helped prepare and educate developmentally delayed youth about God, they have included them in Sunday Liturgies as well.
Lawrence R. Sutton, Ph.D. is a Deacon in the Diocese of Pittsburgh and Director of Pre-Theology Formation at St. Vincent College and Seminary. He also works as a Psychologist at the Wesley Spectrum Services in Pittsburgh Pennsylvania and was the former Manager of the Western Region Office of the Bureau of Autism Services in the Commonwealth of Pennsylvania. He earned his doctoral degree from the University of Pittsburgh in 1980 and has been licensed as a psychologist since 1983.
Phyllis Vos Wezeman
Walk in Their Shoes: Accompanying Learners through Creative Methods and Multiple Intelligences
Walk in Their Shoes: Accompanying Learners through Creative Methods and Multiple Intelligences
The art of accompaniment is inherently personal We know that children, youth, and adults learn best through multiple intelligences, interactive methods, and forms of engagement. How can we move beyond cookie cutter pedagogies to engage learners in ways that will have a lasting impact on their lives? Join us for a fun, lively, creative exploration of how we can teach about scripture, saints, and more using a more personalized and effective approach.
As a religious educator, Phyllis Wezeman has served as Director of Christian Nurture at a downtown congregation in South Bend, Indiana, Executive Director of the Parish Resource Center of Michiana, and Program Coordinator for ecumenical as well as interfaith organizations in Indiana and Michigan.  In academics, Phyllis has been Adjunct Faculty in the Education Department at Indiana University South Bend and in the Department of Theology at the University of Notre Dame. She is an "Honorary Professor" of the Saint Petersburg (Russia) State University of Pedagogical Art where she has taught methods courses for extended periods on several occasions. She has also been guest lecturer at the Shanghai Teachers College in China.  As founder of the not-for-profit Malawi Matters, Inc., she develops and directs HIV & AIDS Education programs with thousands of volunteers in nearly 200 villages in Malawi, Africa including "Creative Methods of HIV & AIDS Education," "Culture & HIV-AIDS," and "Equipping Women/Empowering Girls."  Author or co-author of over 1,950 articles and books, she has written for over 80 publishers.  Phyllis served as President of Active Learning Associates, Inc., a consultant or board member to numerous local and national organizations such as the American Bible Society, Church World Service, and the Peace Child Foundation; leader of a six-week youth exchange program to Russia and the Ukraine; and Project Director for four Lilley Worship Renewal grants. She is the recipient of three "Distinguished Alumni Awards" and recipient of the Aggiornamento Award from the Catholic Library Association.  Wezeman holds undergraduate degrees in Business, Communications, and General Studies from various institutions and an MS in Education from Indiana University South Bend.  Phyllis and her husband Ken (who met when they were in second and third grade in elementary school) have three children and their spouses, Stephanie (Jeff), David, and Paul (Deha), five grandchildren, Quin, Ayle, Lief, Ashley, and Jacob, and a great-grandson, Maddox.
Friday, June 1, 2018
Proclaiming the Joy Experienced
Participants discover how we proclaim to the People of God. Discovering tools and vehicles for proclaiming the Gospel that utilize the multiple intelligences with inclusivity not bound by language or age.  Focuses include modern mainstream music, storytelling, technology, and art. 
---
Father Richard Fragomeni
KEYNOTE
---
Proclaiming the Joy Experienced and Experiencing the Joy Proclaimed
Walking the walk and talking the talk. As life progresses it is easy to get lost in the happiness or sadness brought by change. There is at the heart of these feelings the sacred heart of Christ - an eternal source of personal joy, strength, and refuge. Fr. Fragomeni will discuss finding perspective in life's great triumphs, leveling defeats, small pleasures, and minor annoyances, and placing these experiences into the context of Christ's long suffering love and compassion for each of us, for all of us, and for the world.
Richard Fragomeni is a presbyter of the Diocese of Albany, New York, and has been a member of the CTU faculty since 1990. His teaching involves him in Roman Catholic theology, interpretation theory, and poetry. His current work is in the field of word and sacrament: the intersection of symbolic activity and language as it creates insights into the Christian proclamation of grace. Central to this work is a fascination with the power of liturgy and preaching in the transformation of the human heart.  Richard is an adjunct faculty member in the Department of Religious Studies at DePaul University. He also serves as the Rector of The Shrine of Our Lady of Pompeii, an Italian-American spiritual center in Chicago's historic Little Italy. In addition to his teaching duties he is a preacher of parish missions and gives presentations nationally and internationally on liturgical, sacramental, and catechetical topics.  He is author of Come to the Feast and co-author with Br. Michael McGrath, OCFS, of both Blessed Art Thou Mother, Lady, Mystic, Queen, At the Name of Jesus: The Way, The Truth and The Light. He has published In Shining Splendor: Fifty Eastertime Meditations, and The Eucharist: 50 Questions from the Pews.
---
Dianne Bergant, CSA
CAPSTONE
---
Proclaiming the Joy Experienced
The Joy of the Gospel
In his Apostolic Exhortation The Joy of the Gospel, Pope Francis challenges all of us to embark on "a new chapter of evangelization." This presentation will examine what this might mean in a world "pervaded as it is by consumerism…desolation and anguish born of a complacent yet covetous heart."
Dianne Bergant, CSA is Carroll Stuhlmueller, CP Distinguished Professor Emerita of Biblical Studies at Catholic Theological Union in Chicago. She was President of the Catholic Biblical Association of America (2000-1) and has been an active member of the Chicago Catholic/Jewish Scholars Dialogue for the past thirty years. For more than twenty-five years she has been the Old Testament book reviewer of The Bible Today, having been a member of the editorial board for twenty-five years. Five of these years she served as the magazine's general editor. She wrote the weekly column The Word for America magazine (2002-5), reflections that have now been published by Paulist Press. She is currently working in the areas of biblical interpretation and biblical theology, particularly issues of peace, ecology and feminism.
---
DR. Patricia Jimenez
CAPSTONE – ESPAÑOL
---
Proclamando la Alegría Experimentada
Patricia Jiménez, DMin completed her Doctorate in Ministry from Barry in 2014, specializing in Hispanic and Latino Theology and Ministry. She is the Webmaster for www.ushispanicministry.com and has served for over 20 years in the areas of youth ministry, catechesis, and teaching and administering lay formation programs. Ms. Jiménez has experience in parish and diocesan ministry as well as academia, and has been a speaker at local, regional, and national events. In what follows, she recounts some of her experiences at Barry University and discusses her development of a national website designed to serve Hispanic/Latino Catholics.
Leonard DeLorenzo
Proclaiming the Glory of God through our Stories of Grace
Proclaiming the Glory of God through our Stories of Grace
Recent research shows that the single greatest difference between those who identify as Catholic and those who identify as former-Catholics is "the belief that God is a personal being personally involved in the lives of people today." If we are to shape our whole lives as a Christian story, we must first learn to recognize, craft, and share stories of grace about particular life experiences. This session will introduce seven principles for crafting stories of grace for teens, young adults, and even not-so-young-anymore adults that allow us to speak of God's action in our lives in persuasive and very real terms.
Leonard J. DeLorenzo, Ph.D., is a faculty member of the McGrath Institute for Church Life and teaches theology at the University of Notre Dame. He has authored What Matters Most: Empowering Young Catholics for Life's Big Decisions (Ave Maria, 2018), Witness: Learning to Tell the Stories of Grace that Illumine Our Lives (Ave Maria, 2016), Work of Love: A Theological Reconstruction of the Communion of Saints (University of Notre Dame Press, 2017), and he is the co-editor of Dante, Mercy, and the Beauty of the Human Person (Cascade, 2017). Please visit his personal website for more information at leonardjdelorenzo.com.
KEVIN DOWD
Front and Center: The Eucharist and Missionary Discipleship
Front and Center: The Eucharist and Missionary Discipleship
The Eucharist is "the source and the summit of the Christian life" and is the very fabric out of which the Christian life is woven, since it is none other than Christ Himself among us. This workshop takes up the theme of "missionary discipleship"--so clearly put before us by Pope Francis--and hopes to inspire participants, examining and affirming the deep connection between the Eucharist and the EVERYDAY missionary work of the Church. The importance of storytelling and the witness of the saints will guide the presentation. The presenter gives special attention to pedagogy, suggesting ways to make these connections in the lives of our young people, inviting them into the missionary, Eucharistic life of the Church.
Kevin Dowd is a doctoral candidate in theology and education at Boston College, working under the advisement of Thomas H. Groome. He is the third of eight sons from Worcester, Massachusetts, and has taught in Catholic schools and religious education programs in both Massachusetts and New York. After graduating from Harvard University with a bachelor of arts degree in history, Kevin volunteered for two years with the Franciscans at the Capuchin Youth and Family Ministries (CYFM) in Garrison, New York. He earned his master's degree in education from the Institute of Religious Education and Pastoral Ministry (IREPM) at Boston College in 2008. His research interests include religion and public education, inter-religious dialogue, and bullying. Currently, Kevin teaches theology at Anna Maria College in Paxton, Massachusetts, and he writes a weekly blog on the Sunday readings available at www.bayardinc.com/the-word-is-life/
Fr. Ray East
Monsignor East is the son of the late Thomas and Gwendolyn East. He was born in Newark, New Jersey. Raised in San Diego, he graduated from the University of San Diego. After attending Holy Trinity Seminary in Dallas, Texas and Mount St. Mary's Seminary in Emmitsburg, Maryland he was ordained in 1981 for the Archdiocese of Washington by Cardinal James Aloysius Hickey.
NOELLE GARCIA
¡No Hablo Español! (With David McHugh)
¡No Hablo Español! (with David McHugh)
While David's mom is Puerto Rican and fluent in Spanish, and Noelle's dad is Mexican and fluent in Spanish, neither one grew up with Spanish spoken in their home. For the past four years, however, Noelle and David have been ministering in a bilingual community at a bilingual parish. This workshop, based on personal experience, will give some practical advice for ministering in a community that embraces more than one culture. Discover ways to plan events and liturgies that bring diverse groups together and explore the realities experienced by different generations within the same family.
Noelle Garcia and David McHugh have been married for 9 years and are parents to five children. They travel around the country doing music and youth ministry but their home base is in Dodge City, Kansas! Noelle is finishing her Masters of Theological Studies at Newman University in Wichita, and David has a B.A. in Theology from Franciscan University. They minister together at the National Catholic Youth Conference, LA RECongress, and have also performed internationally at World Youth Day in Sydney, Australia. Noelle also appeared in the 2009 CNN documentary, "Latino in America" sharing her music and testimony. David has a unique style of playing guitar on his own invention - Percoustix (patented) - which allows him to play drums and guitar at the same time. When not chasing around and homeschooling their five kiddos, the husband and wife team enjoy sharing their faith with lots of laughs, prayer, and music!
Adam Janke
Witness in a Secular Culture
Witness in a Secular Culture
Experiences, tools, and methods that St. Paul Street Evangelization have found to be fruitful in evangelizing communities.
Adam oversees the development of programs and resources for SPSE including the Urban Missionary Program, Regional Missionary Program, Leadership Training Institute, and the online School of Evangelization. As a public speaker he offers keynote talks and workshops on the New Evangelization. After converting to Catholicism from biblical fundamentalism in 2005, Adam obtained a BA in Theology and Catechetics and an MA in Theology in Christian Ministry from Franciscan University. Adam has been featured on EWTN Television and Radio, Catholic Answers Live, the Radio Maria Network, the National Catholic Register, as well as in several other Catholic news publications. He resides in Michigan with his wife and six children.
Dale Recinella
When We Visit Jesus in Prison: A Ministry of Hope, Courage and Joy
When We Visit Jesus in Prison: A Ministry of Hope, Courage and Joy
Participants will encounter the face of Jesus through the lens of local parishes addressing the needs of men and women in our prisons and jails and of children with incarcerated parents. Participants will be introduced to the needs of the incarcerated in general and also to the specific needs of inmates with special conditions. What are the needs of women in jails and prisons? What are the needs of elderly inmates in prison? What are the needs of inmates suffering with physical or mental illness? What are the needs of children with incarcerated parents? How can we as parish and as Church respond to those needs effectively and bring the message of hope, courage and joy?
Dale Recinella has served for twenty-five years as a spiritual counselor and Catholic Correctional Chaplain in Florida's prisons. On behalf of the Catholic Bishops of Florida, in 1998 he began ministering cell-to-cell to the ≈ 400 men on Florida's death row and the ≈ 2,000 men in Florida's long-term solitary confinement.  For 19 years, he and his wife, Dr. Susan Recinella, have ministered as a team during executions: he serving as spiritual advisor to the condemned and his wife serving as a lay minister to the condemned's family and loved ones. They also minister to the families and loved ones of murder victims in non-capital cases.  Mr. Recinella, who received a Masters in Theological Studies (M.T.S.) summa cum laude from Ave Maria University's Institute for Pastoral Theology (2009) and law degree magna cum laude from Notre Dame University Law School (1976), is a licensed Florida lawyer and has taught international law/business ethics in Europe, at the undergraduate and graduate levels, at St. John's University at the Vatican (Oratorio) and at Temple University in Rome; and has designed and taught Credible and Responsible Ministry in Prison, Certificate Program in Prison and Detention Ministry, at Saint Leo University Theology Department, Saint Leo, Florida USA (2013 - 2015).  He has been a Community of Faith columnist for The Tallahassee Democrat and for over ten years was the prolife/prison and death penalty columnist for the statewide Florida Catholic.  He has appeared frequently on worldwide Vatican Radio, extensively addresses audiences nationally and in Europe, and with Dr. Susan, has raised 5 children. He has written over 400 articles and columns and multiple books.
Jorge Rivera
Jorge Rivera serves as Director of Hispanic Ministry/Ethnic Ministries for the Diocese of Joliet in Illinois. He received a BA from the University of DePaul in Chicago and candidate for an MAEA-Masters of Arts in Educating Adults. He is founder of ESFOR-Escuela de Formación en Pastoral Juvenil through his tenure as coordinator for Hispanic Young Adults for the Archdiocese of Chicago. Jorge is a longtime collaborator and member of the Pastoral Team for Instituto Fe y Vida. In addition, he is President of MWCAHM- Midwest Catholic Association of Hispanic Ministry. Jorge is also a Catholic worship music singer and song writer in which has dedicated his musical talent and passion predominately to the evangelization of Latino/a jóvenes, with three major recordings through the record label company WLP-World Library Publications. Jorge can be contacted at: jrivera@dioceseofjoliet.org
Paul Sanfrancesco
Proclaiming the Joy using Social Media
Proclaiming the Joy using Social Media
Today everyone is connected by mobile devices and social media but are we using theses power tools for our ministries? This session will provide how to bridge families and the whole parish together with social media. Catechists and administrators will take away ideas and plans implement and teach the faith using these powerful tools. Bring your devices!!
Paul Sanfrancesco is a National Technology Consultant for William H. Sadlier, Inc. For over 20 years, he has worked in Catholic, private, and public education, including as Director of Technology for the 200+ schools of the  Archdiocese of Philadelphia and in collegiate teaching at Saint Joseph's University and Neumann University. The National School Boards Association named him one of the "20 to Watch" Educators for his work in Instructional Technology. Mr. Sanfrancesco has been featured in Tech & Learning, Schools CIO, EdTech Mag, and Catechetical Leader and presents at local, regional, and national convocations. He holds a bachelor's degree in education from Millersville University and a master's degree in instructional technology from
Temple University.
C. Vanessa White
Don't Be Weary
Don't Be Weary
As busy ministers it is a challenge to sustain oneself in the ministry and as to be as Pope Francis states - "a spring that overflows". This workshop will address the challenges of ministry, the stress and burnout that challenges many and offer strategies and practices to journey in health and wholeness.
Dr. C. Vanessa White is Assistant Professor of Spirituality and Ministry and the Director of the Master of Arts in Pastoral Studies and Distance Learning Program at Catholic Theological Union. A Secular Franciscan with over 25 years of experience in pastoral ministry, catechetical ministry and theological education, she is one of the contributors for GIVE US THIS DAY, published by Liturgical Press as well as numerous articles in US CATHOLIC, AMERICA, and is a nationally recognized lecturer and retreat facilitator.
Saturday, June 2, 2018
The Journey continues…with hope, courage & joy
Participants unpack the themes of encounter, accompany, and proclaim with a hopeful, courageous, and joyful heart.  Challenged by the early disciples in their brave responses to "Come Follow Me," which required the abandoning of all they knew and owned, even those they loved, participants will reflect on what steps need to be taken to say YES! to following Jesus and sharing the Gospel with God's people in today's realities.
David Wells is a catechist and author who regularly speaks at conferences throughout the world.  David was born in Market Harborough, Educated at St Joseph's primary school there and then at English Martyrs in Leicester. He returned to the diocese after university to work at the Briars, Crich and then as a teacher at St John Houghton in Ilkeston, Derbyshire. He later worked for the Catholic Education Service in London as a research assistant and gained an M(Phil) having researched Effective Methods in Teacher in-service Training. In the 1990's David served the Nottingham diocese as an Education Adviser working at Mornington Crescent.  David has contributed to the production of catechetical resources in the UK and North America and spoken at more than 300 conferences worldwide. He is a regular contributor to the Religious Education Congress at Anaheim in California, where over 30,000 delegates gather to hear some of the world's most prolific religious writers. In the USA he was a contributor to the Echoes in Faith Programme by RCL Benziger. He has also spoken at some of the largest gatherings of teachers in Canada and appeared on Canadian television. In the UK he has presented at conferences in every diocese in England and Wales, served on several working parties for the Bishop's Conference of England and Wales, guest lectures at three English Universities, and in 2000 he scripted and produced the video series "You, your Children and their Catholic faith" which sold widely throughout the English speaking Church. He has published two books, The Reluctant Disciple and The Grateful Disciple, both available from Redemptorist Publications. The Reluctant Disciple was Redemptorist's best-selling book of 2015. Bishop Malcolm McMahon Chair of the Department for Education and Formation in the Bishop's Conference described David as a "Remarkable and gifted speaker."  David is married to Alison and they have three grown up children and a very badly behaved dog. David's eldest son Sam, has just begun a teaching career in mathematics. David now lives in Exmouth, East Devon where, when he has an opportunity, he spends time on the Exe Estuary pretending he understands the sea.
Partners
Ave Maria Press, Bayard-Pflaum, Bishop Goedert Residence, Brothers and Sisters of Love, Catholic Apostolate Center, Catholic Charities, Catholic Relief Services, Faith and Fellowship, Iskali Ministry, Loyola Press, Mission of Our Lady of the Angels, National Catholic Education Association, National Catholic Partnership on Disability,  National Federation for Catholic Youth Ministry, North American Forum for Small Christian Communities, Our Sunday Visitor, Paulist Evangelization Ministries, RCL Benziger, Street Ministry with St. Paul Street Evangelization, The Pastoral Center, The Peace Corner Youth Center, United States Conference for Catholic Bishops, William H. Sadlier, World Library Publications
Contact
For conference website updates and
exhibitor, sponsor and advertising information
Contact: Masero Events
Nicole Masero, nmasero.events@gmail.com